Descrizione
Bicycle Supreme Line Blu
Si potevano migliorare le Bicycle Rider Back?… la risposta è SI!
Ecco a voi le Bicycle Supreme Line, le carte stampate dalla US Playing Card Company per venire incontro alle esigenze dei maghi e dei cardists di tutto il mondo.
E sapete qual è la parte migliore?… costeranno solo poco più di un mazzo standard!
Ecco alcuni dei miglioramenti che vi faranno amare questo mazzo:
Stampato sul mitico Crushed Stock
Queste carte, altamente performanti, sono leggermente più sottili delle normali Bicycle, e vi regaleranno nuove sensazioni, aiutandovi a migliorare sotto tutti i punti di vista le vostre performance cartomagiche o di cardistry.
Taglio tradizionale
Questa importante caratteristica, ricercata da molti maghi professionist, rende diverse manipolazioni (quali il miscuglio Faro, o il miscuglio con una mano) molto più semplici e fluide rispetto all'uso di mazzi Bicycle standard.
Le Bicycle Supreme Line Blu sono un sogno che si avvera per qualsiasi mago o cardist!
– Crushed Stock.
– Taglio tradizionale.
– Senza sigillo.
– Iconico astuccio del Rider Back.
– 3 carte speciali incluse: doppio dorso, faccia bianca, falling pips.
– Finitura Air Cushion.
– Stampate dalla USPCC.
Sometimes I receive questions from my readers about stocks and finishes used to print playing cards. Although a thorough analysis of this topic would require a much longer article, it is possible to learn important aspects by observing the features of new releases.
Its appearance is that of a standard Bicycle rider back deck, with the traditional tuck case in red and blue colors. However there are some features that make this deck somewhat different.
On the one hand, the Bicycle Supreme Line deck has traditional cut. This means that, during the production process, the cards are cut face to back, instead of the usual back to face modern cut. Although it may seem that this does not make a big difference, those who perform special shuffles, particularly the "faro" (mixing two packets of cards interspersed one by one simply by facing them and applying some pressure) do praise this type of cut, especially if the faro is made with the cards face down.
On the other hand, the stock used for this deck has been the "crushed" one, a thinner paper that makes the cards more flexible and snappy. This will delight manipulators and cardists.
In addition, as far as this is a deck created for magicians, it incorporates three gaff cards useful for magic routines.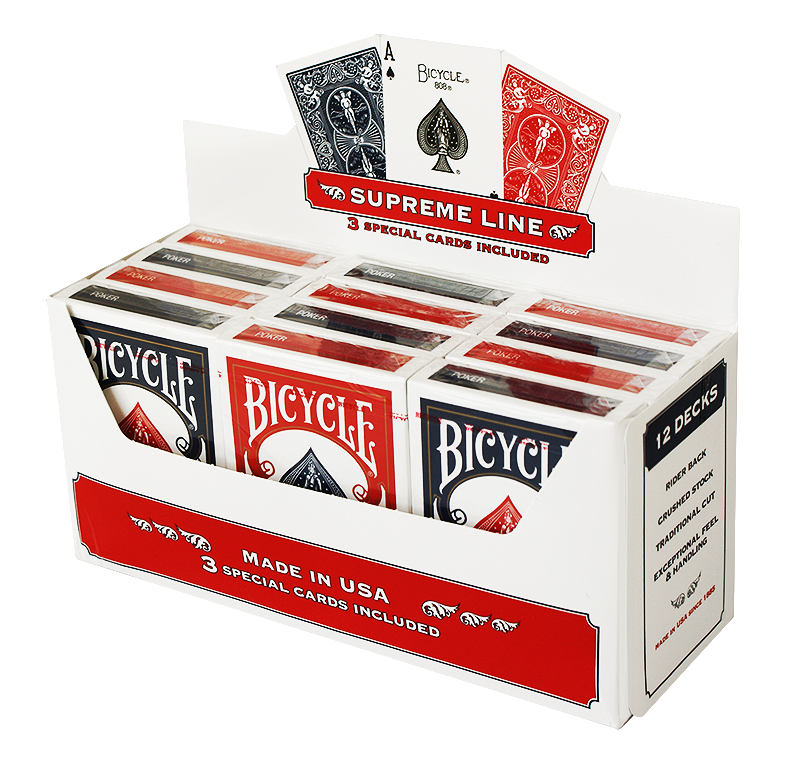 La mia opinione…